Dasar – Dasar Public Speaking
15/02/2022
2022-04-19 12:02
Dasar – Dasar Public Speaking
Dasar – Dasar Public Speaking
Public Speaking ialah berbicara di depan umum. Sering dipahami sebagai pidato, meski public speaking bukan hanya pidato atau ceramah.
Siaran Radio / TV dan Presentasi juga termasuk Public Speaking. Ringkasnya, Public Speaking mencakup semua aktivitas berbicara (komunikasi lisan) di depan orang banyak, termasuk membawakan acara (MC) , rapat, presentasi, diskusi, briefing, dan mengajar di kelas.
Presenter TV dan penyair radio termasuk melakukan Public Speaking dilihat dari sisi jumlah audience yang banyak (publik), meskipun tidak face to face.
Untuk menjadi "pembicara hebat" (great public speaker) kita harus menguasai dasar-dasar public speaking dan elemennya.
Hal itu dapat dilakukan dengan dua cara, yakni: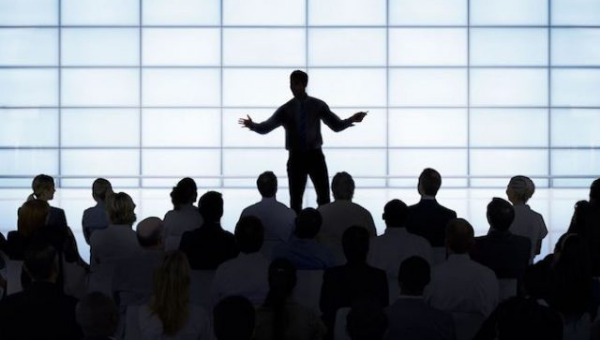 1. Latihan
Practice! Lakukan latihan pidato di depan kawan-kawan, keluarga, bahkan anjing / kucing, atau siapa saja yang bisa mendengarkan; di depan cermin; menggunakan recorder.
2. Tumbuhkan Keterampilan
Building Skills ; membangun keterampilan PS dengan memahami teknik PS, meliputi persiapan dan penyampaian.
Persiapan Mental
Rileks! Atasi gugup dengan menarik nafas panjang/dalam; menggerakan badan; berdiri tegak layaknya tentara berbaris dengan bahu dan dada yang tegap, lalu tersenyumlah!
Know the room! Jadikan seakan-akan ia kamar Anda sendiri.
Know the audience! Kenali karakteristik dan pandang mereka sebagai teman akrab.
Know your material! Anggaplah Anda yang paling tahu.
Persiapan Fisik
Pastikan kondisi badan dan suara fit, segar, dan normal
Kenakan pakaian yang serasi dengan susana acara.
Jangan memakan keju, mentega, atau minum susu, soda, teh, kopi, sekurang-kurangnya sejam sebelum tampil.
Jabatlah tangan Anda agar darah mengalir — membuat gerakan tangan Anda lebih alami saat berbicara di podium.
Jaga agar mulut dan tenggorokan Anda tetap basah. Siapkan selalu air mineral.
Persiapan Materi
Baca literatur dan cari sumber data sebanyak mungkin. Semakin banyak pengetahuan dan wawasan, Anda pun kian percaya diri.
Susun pointer atau outline.
Cara Menyampaikan & Menguasai Materi
Anda punya empat pilihan penguasaan materi:
Membaca naskah (reading from complete text)
Menggunakan catatan (using notes) berupa garis besar materi (outline) –ini cara terbaik.
Menggunakan hapalan (memory) –pilihan terburuk karena komunikasi dengan audience berkurang, terutama soal kontak mata;
Menggunakan alat bantu visual sebagai catatan (using Visual Aids as Notes).
Kalian juga bisa mendapatkan pengetahuan menarik lainnya, jangan lupa visit Wesclic Knowledge. Disana kami merangkum pengetahuan seputar teknologi, startup, basic public speaking, dan masih banyak lagi. Terimakasih sudah membaca artikel ini, salam hangat dari penulis untuk kalian semua.
Integrate — Interconnect the World's — Information Technology.
Wesclic is The #1 Neo-Technology Companies in Yogyakarta, we provides big data and analytics solutions to support business and professional growth through data integrations on the SaaS Platforms.